Jason is a special guest star in this made for TV movie, and unfortunately he succumbs to a rather untimely ending
First World War. A beautiful young French aristocrat, Centaine De Thiry (Isabelle Gelinas) gets acquainted with the British aviator Michael Courtney (Jason Connery). They fall in love each other, but their happiness is short-lived. In one fight the aviator perishes. Centaine decides to leave for Africa, as her lost husband dreamed and the child she carries will be born in Africa. . Her passage to Cape Town is arranged by General Sean Courtney, Michael's uncle, but during the journey, a U-Boat torpedoes the ship and she is cast onto the shores of the Namibian Desert. Lothar de la Rey (Derek de Lint) falls in love with the shipwrecked Centaine but they later become rivals in South African society.
| | |
| --- | --- |
| | |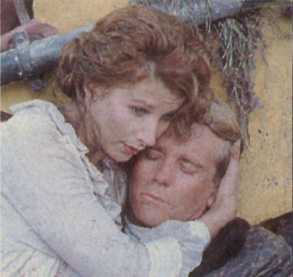 Isabelle Gelinas - "Centaine de Thiry"
Derek De Lint -"Lothar de la Rey"
John Savage -"Blaine Malcomess"
Jason Connery - "Michael Courteney"
Ernest Borgnine - "Ernie"
Marina Vlady - "Anna Stok"
Valerie Perrine - "Isabella"
Jean-Pierre Cassel - "Louis de Thiry"
Frank Finlay - "Garrick Courteney"
Jennifer Youngs - "Sarah"
And Jenny Alpha, John Armstead, Achille Brugnini,
Russel Case, Lorenzo Flaherty,
Isaac George, Marc de Jonge, Andrea Prodan, Clive Riche,
Del Russell, Bobby Rhodes, Marius Yelolo.

Crew:

Cinematography - Sergio d'Offizi
Produced by Gerald Morin
Assistant Director - Malcolm Scerri-Ferrante
Art Director - Frank Vanorio.


Based on the book by Wilbur Smith