Far Side of Jericho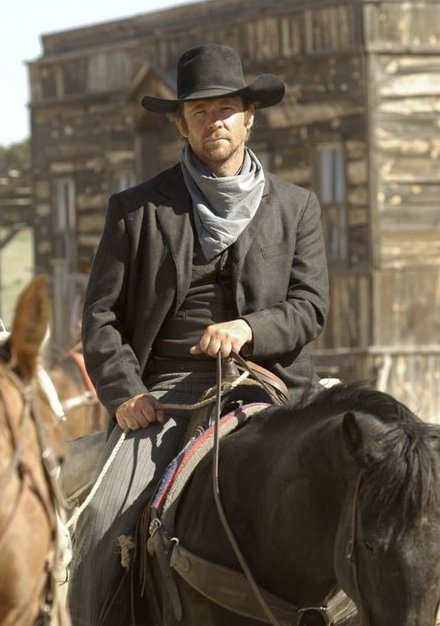 "Far Side of Jericho" (directed by Tim Hunter) takes place in the 1880's and follows three women, widows of an outlaw gang of brothers all recently hanged, who must run for their lives from a posse, Indians, and other villains convinced they know the whereabouts of their husbands' missing bank loot and other treasures. Along the way the women learn to trust one another more and confront their fates, realizing they need to find the treasure first or be killed. Connery co-stars as one of two corrupt Pinkerton agents who, after capturing the outlaws, pursue the widows and the missing money. "Jericho" co-stars include Patrick Bergin, James Gammon, and Lawrence Pressman.
Patrick Bergin as Jake
Lawrence Pressman as Van Damm
James Gammon as Preacher
Judith Burnett as Claire
Lissa Negrin as Bridget
Suzanne Andrews as Maxine
C. Thomas Howell as Jemmy
John Diehl as Cash
Jason Connery as John
Bill Doyle as David
Steve Cormier
Christian Aubert
Muse Watson
John Ericson
Jim Tuttle
Matt Langseth
Zachary Ray Sherman
Debrianna Mansini
Jack Burning
Carlos Cervantes
Oliver Page
Constance Forlund
Marc Marin-Adams
Tim DeKay
John David Garfield
Shooting started in May 2005, in Sante Fe.
01/06/05
SANTA FE (AP) - A new feature length movie is wrapping up production in New Mexico this week. "The Far Side of Jericho" has employed a crew of 75 during its 23-day shoot in locations around New Mexico. Parts of the movie were filmed in Zia Pueblo, Cook Ranch, Bonanza and Diablo Canyon. New Mexico offers a number of film incentives, including a tax rebate of 20 percent, no-interest loans and film training. Move producer Tom Shell said he set out to make a feature film for under $2 million. He says solid crews, breathtaking locations and strong financial incentives drew the makers to New Mexico.