Urban Ghost Story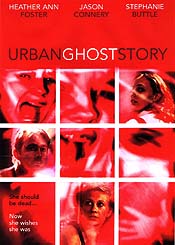 THE supernatural has been taken over by Californian effects companies. It's not easy to be afraid anymore without references to green vomit, or the ever-undead. Genevieve Jolliffe goes to a Glasgow highrise and finds an active poltergeist. Also there is Lizzie (Heather Ann Foster), who survived a car crash that killed her friend, Kevin. Lizzie is 14, a silent witness to the poverty of their lives, with mum (Stephanie Buttle) struggling to cope on her own. At night, furniture is moving in her room and she hears scratching and banging.



In despair, mum calls a journalist, John Fox (Jason) on the evening paper, who writes a series of sensational stories about the haunting. Psychic experts move in with their aparatus. The flat is occupied by strangers, who want to use the situation for their own ends. The journalist pretends to be sympathetic, but fully intends to expose it as a hoax. The social services make threats.

Jolliffe is more interested in Lizzie's state of mind, her guilt about the accident, the terror she feels and experiences, the isolation of her life. Foster's performace is so powerful and moving, it leaves scars on the memory. Buttle, also, is strong. The underside of Glasgow life is captured with merciless accuracy.

"Jason Connery recently returned to the UK with his American wife Mia Sara and newborn son. Urban Ghost Story is his first film since his return, and he was excited about the character of John Fox as he is very far from the type of characters he usually plays. Jason was particularly attracted to the contemporary setting for Urban Ghost Story, the down to earth characters and general feel of the piece. 'The screenplay is very tight - and it's a very different kind of ghost story to what people are used to' comments Jason. As Jason has a newborn son, he was delighted that his character needed to be tired, run down, and generally worse for wear!"

The film won Best Film at the Mostra Internazionale del Film de Fantascienza e del Fantastico di Roma in 1999.

Twelve-year-old Heather Ann Foster lives in a grim Glasgow tower block with her single mother, Stephanie Buttle. Lizzie is already on the social services' 'at risk' list, while Kate has to cope with a violent loan shark, aggressive social services and general squalor. On top of this, the ghastly flat is blighted by poltergeist phenomena.

Convinced they are haunted, Kate appeals to reporter Jason Connery, who sees the story's potential but believes it's a hoax to get the family rehoused.

This neat Brit-flick provides a strong contrast with films like The Exorcist, in which visitations bother those too well-off to have other problems. Not only can the family not afford to leave their haunted flat, but they are forced to rely on the manipulative journalist and his semi-cracked parapsychologist or spiritualist.

The acting is good throughout, the cast featuring a number of easily recognisable Brit TV faces, along with Jason Connery turning in a serviceable performance as the unscrupulous journalist.
Connery, uneven throughout, oscillates from being incredibly low-key to self-consciously earnest. Includes a film clip.

Variety Magazine Review
Connery low-key but natural as the unshaven reporter