Midnight in St Petersburgh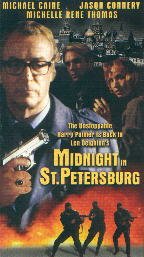 In this sequel to BULLET TO BEIJING Harry has successfully made the transition to freelance by opening his own private investigations bureau, 'Harry Palmer and Associates', together with a number of former intelligence officers.
Harry's young and enthusiastic colleague Nic is keen to start a new office in St. Petersburg, so as to spend more time with his beautiful girlfriend, the ballerina Tatania. Yet in Russia, nothing runs smoothly and when Tatania becomes the target for kidnappers, Harry and his associates immediately suspect the Mafia - but have former spies got it all wrong? As Harry and Nic hunt the kidnappers they are drawn into a labyrinth of deception and confrontation with the ever-deadly Mafia, as it becomes clear that Tatania is being used as bait in what could be the most audacious theft of the century.
Jason plays Nicolai Petrov