Night Skies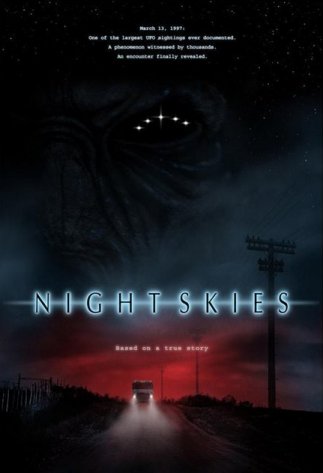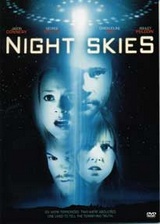 Reminderonline.com
On March 13, 1997, thousands of people in Arizona watched a group of UFOs in the sky over Phoenix. The incident received national attention and to this date no explanation about these lights, which appeared to be flying in formation, has been offered. Needless to say, this mass sighting is suitable material for a movie and "Night Skies" uses the event to present a story about a group of people who witnessed the UFOs in a decidedly personal way.
A group of young people is traveling to Las Vegas on back roads spot the lights and subsequently crashes their RV. They meet another driver, whose truck has stopped mysteriously, and then begin a torturous encounter with aliens. The film is based on the recovered memories of Richard (played by Jason Connery), the truck driver. While the UFO sighting themselves and Richard's story should provide the fodder for a good story, director Roy Kynrim and writer Eric Miller waste too much time on setting up the relationships between the victims.
The focus of the story should have been on Richard: what happened to him on board the UFO, how he was found and what his life was like later. A documentary probably would have been more interesting a film. The creepiest moment doesn't happen until the end of the film when actual footage of the lights is shown.
Competently shot and with a solid performance from Connery (yes, he's Sean's son), "Night Skies" crashes due to a poor script.
"Night Skies" (directed by Roy Knyrim) is adapted from an actual event that took place during the infamous "Phoenix Lights" UFO sightings in Arizona in 1997. It tells the story of six campers who, during that March evening, encounter something that could never be fully explained until now. Five of them went missing and have never been found. Jason stars as Richard, the sole remaining survivor, who recreated the events, as he believes they actually happened. "Night Skies" also features AJ Cook, Ashley Peldon, George Stulz, Joe Sikora, and Gwendolyn Yeo. Filming started in May 2005 in Los Angeles and Santa Clarita, California, USA

Comingsoon.net 15 July 2005
Producer Mike Greene, director Roy Knyrim and the SOTA FX/Toys team brought the recently wrapped alien abduction thriller Night Skies to San Diego Comic-Con this week. The movie is a based on a true story of one man's account of the March 13, 1997 Phoenix Lights encounter - a well-documented and widespread UFO sighting. The group showed attendees a behind-the-scenes trailer filmed during shooting of the movie. The trailer centered largely on location shooting dealing with a large recreational vehicle (RV). The team also showed the official theatrical trailer, which included real footage of Senator John McCain acknowledging the Phoenix sighting.

Actors George Stults (7th Heaven), A.J. Cook (Tru Calling) and Jason Connery (Wishmaster 3) were on hand to share the experience of making the film. Stults plays Matt - the abrasive boyfriend to Cook's character Lily, who is fighting a strained relationship and has a secret she will not reveal. Connery plays Richard - a bystander who is drawn into the couple's world after a car accident. All three were drawn to the project due to a fascination with UFOs, the element of it being a true story and the unsolved mystery aspect of the material. The team used puppets and costumes for the aliens in the film and not CGI.

Knyrim told the crowd he was going for a The Hills Have Eyes with aliens, 1960s throwback look to the film, which is still looking for a distributor. S.B. Harris, publisher of Electronic Gaming Monthly and Jerry Macaluso, president of SOTA Toys, funded the film. The pair had been long-time friends and always wanted to work together. "We wanted to revisit the whole 'gray alien' thing," said Macaluso. "No one had done it the way we thought it should be done."

Screenwriter Eric Miller (Dog Soldiers 2) wrote the script. Greene said they would run the film in the festival circuit and try to get the film into the Sundance Film Festival. Macaluso said he thought Night Skies could hit theaters around Halloween 2006. The set was a reunion of sorts for three of the team - Knyrim, Cook and Connery worked together on Wishmaster 3.

Variety 6 June 2005
Jason Connery ("Shanghai Noon""Shanghai Noon"), George Stults ("7th Heaven""7th Heaven"), A.J. Cook ("Final Destination 2""Final Destination 2"), Gwendoline Yeo ("A Day Without a Mexican""A Day Without A Mexican") and "Ghost World""Ghost World" thesps Joe Sikora and Ashley Peldon have been cast in "Night Skies" for Ringleader Studios and Karza Prods. Roy Knyrim is directing the pic, based on reported UFO sightings over Nevada and Arizona in 1997. Production wraps this week in Van Nuys.
Date in print: Mon., Jun. 6, 2005,
Fangoria 12 May 2005
SOTA FX chief turned director Roy (CEMETERY GATES) Knyrim began lensing his latest film, the sci-fi thriller NIGHT SKIES, this past Tuesday in the San Fernando Valley and Valencia, CA. The indie film draws inspiration from the notorious Phoenix Lights UFO phenomenon that took place over Nevada and Arizona on March 13, 1997. Witnessed by thousands, the incident was later investigated by Arizona senator John McCain. The movie is reportedly adapted from hypnosis-therapy transcripts with an observer to the UFO event. NIGHT SKIES stars Jason (URBAN GHOST STORY) Connery, A.J. (FINAL DESTINATION 2) Cook and George (7TH HEAVEN) Stults, along with Ashley (UNDRESSED) Peldon, Joe (GACY) Sikora and Gwendoline Yeo in supporting roles. Eric (DOG SOLDIERS 2: DEAD MEAT) Miller wrote the script, and FX are being handled by Monster FX's Mark Villalobos and Ron Karkoska, who just scored with some fine work on Dave Payne's REEKER. Steve Adcock, a camera operator on SPECIES and SCARY MOVIE 2, serves as cinematographer. Knyrim's partner, Jerry Macaluso, is executive producer, along with S.B. Harris.