Private Moments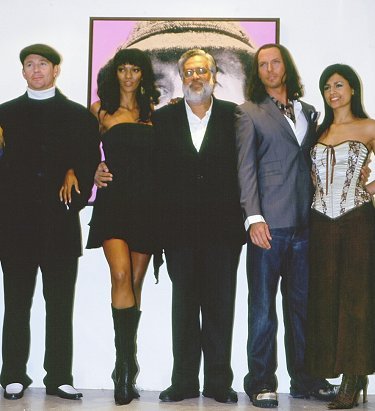 At long last…London's answer to Sex and the City The first ever photo call with the cast from new movie Private Moments, billed as London's answer to Sex and the City, took place on 13th December 2004 at the Apart Gallery, Portobello Road.

The cast, which included Jason Connery, Luke Goss, Catalina Guirado, Judi Shekoni, Natasha Vermeer and Aruna Shields, gleamed and glittered for the cameras and the paparazzi, proving that we Londoners are as sexy and sassy as our New York counterparts. Veteran director Jag Mundhra in speaking about the film commented, ''Private Moments is a sexy and sassy yet humorous film with influences from Sex and the City and the Red Shoe Diaries. Living in America and watching Sex and the City made me realise that the ideal city to set these hot topics would be London. It is so much more multi-cultural, and truly cosmopolitan. People of all ethnicities co-exist in a completely different way here. Sex and the City is very New York-centric and doesn't represent all of America's ethnic cultures, and uses almost exclusively Caucasian actors. That's where Private Moments differs.''

Film Synopsis: Serena Call (Judi Shekoni) is having a bad day. She's just turned a year older, her love life is non-existent, and her job as host for London's lowest-rated night time talk show is in serious jeopardy. Serena's got one week to come up with an idea to boost the stations sagging ratings, or it's off to the unemployment line. What's a girl to do? Why, turn to her friends, of course!

An impromptu birthday party and several bottles of wine lead to a night of sinful confessions for these four funny, sexy ladies. From titillating talk in a corner phone booth to a sensual rendezvous on a moving underground train, these ladies share their sexiest, most private moments. It turns out that they are not alone in this desire. Serena returns to the air with a new style, new sense of purpose, and a new direction for the show.
Re-dubbed "Private Moments, Public Places", she finds that there are as many sexy stories in the city after dark, as there are women who want to tell them.

Cast:
Jason Connery; son of actors Sean Connery and Diane Cilento, London-born Jason inaugurated his own film career in 1982 with The Lords of Discipline. His next film was The Boy Who Had Everything (1983), which was critically acclaimed. He also starred in Robin of Sherwood, a well-distributed BBC television series of the late 1980s. In 1990, Jason Connery was wittily cast in the title role in the made-for-cable The Secret Life of Ian Fleming, a fanciful biography of the author/adventurer whose "James Bond" novels had helped catapult Sean Connery to fame. also regarded by many as the greatest living theatre practitioner.

Luke Goss; as part of the pop duo Bros, Luke received the Brit award for best newcomer and has now established a successful acting career and appeared in a number of TV productions and films including Frankenstein.

Catalina Guirado; British model first found fame on "TFI Friday" as Chris Evan's gorgeous sidekick. She has since been highly in demand as a model and appeared on I'm a Celebrity Get Me Out Of Here Series 2. Filming work has included a highly publicised appearance on the Osbournes and a Channel 4 documentary Summer In St Tropez.

Natasja Vermeer; a French actress who has played Emmanuelle a record seven times in the internationally successful series.

Judi Shekoni; a gorgeous model, TV presenter and actress who has appeared in Eastenders and Casualty.

Aruna Shields; sassy new British Asian actress who has starred in an array of Bollywood movies.

Director, Jag Mundhra has been making films since 1980 and has directed twenty four feature films in the past twenty years. Jag has received critical acclaim and several international and national awards for his sensitive and committed portrayal of true-life stories in his films Kamla, Bawandar, Night Eyes, Improper Conduct. · Producer Sunanda Murali Manohar has a high profile roster of films to her name including, Jungle Boy, Inferno, Tropical Heat, Indian Summer, Blood Stone, Jeans and Backwaters starring Tamzin Outhwaite, Jason Fleming and Nicholas Irons.

Private Moments will premiere at the Cannes Film Festival in 2005.