SpyMaker - The Secret Life of Ian Fleming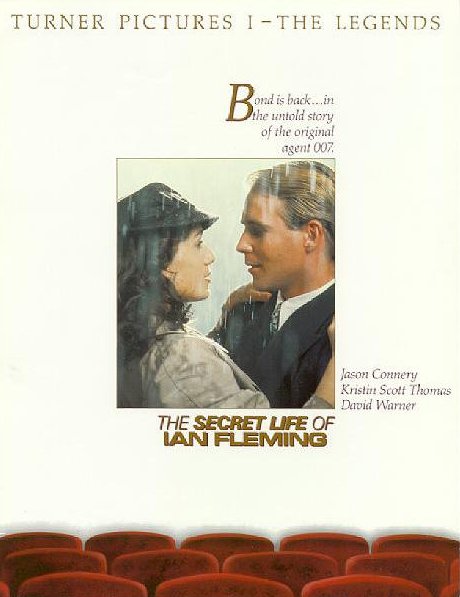 An action-packed spy thriller about the man who created James Bond. Ian Fleming drew upon his own true-life experiences, constantly flirting with danger, death and beautiful women, to write the James Bond novels. Also stars Kristin Scott Thomas, Joss Ackland, David Warner, Julian Firth and Patricia Hodge and filmed partly on location at Bamburgh Castle in Northumbria.
2 questions spring to mind after watching this film - what on earth persuaded Jason to take the role? and Whatever did Dad, Sean think when he found out?!
The number of James Bond film references is huge, and while seeming a little cheesy, it does make you stop and think are they trying to send up the Bond films? or try and give some explaination as to why they are like they are?
So let's list the James Bond references

The Miss Moneypenny character at Reuters, called Delaney who throws his hat onto the hatstand!

The bird book he gives to Leda, Written by James Bond

The file he gives David Warner marked "For Your Eyes Only"

The casino scene, reminiscent of several Bond movies!

The Martini Shaken Not Stirred!

Quincy, the boffin friend as a model for Q
Anyone who can think of anymore let me know!
Before he retired and wrote the famed James Bond novels, Ian Fleming actually was a spy. His life wasn't as adventuresome as that of his literary hero, of course, but he was involved in his share of intrigue. I'm frankly not sure how accurate this film is to the details of his life. Some of it is accurate and some of it is not; it's just a question of the proportion of each.

"The choice of Jason Connery as the eponymous hero was certainly an exercise in the bleeding obvious, and transparently the casting decision of a cynical producer seeking a large audience of the curious; but Connery was arguably the perfect actor for the role. No doubt his looks owe more to the young Bond than the young Fleming, but he makes a plausible philandering wastrel from the British upper classes, the victim of a well-connected domineering mother struggling to find something useful for him to do that might engage his attention long enough for him to become respectable and self-sufficient. Unlike so many of that breed whose very existence repulses the less favoured, his larrikin spirit is engaging and sympathetic and we cannot help ourselves from wishing him well."