Daily Mail Weekend Magazine
18th January 2003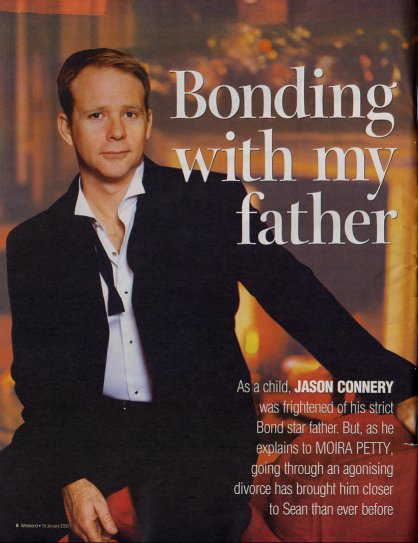 Everywhere he goes, Jason Connery is pursued by people keen to remind him of his parentage. 'People do really bad impersonations of my dad,' he says glumly. 'But once I was at a charity cricket match and I really thought he was behind me. I turned around to say, "What are you doing here?" and it was Rory Bremner. He didn't overdo it.' If it is galling for Jason to be bracketed alongside his father in a continuing compare-and-contrast exercise, he seems long inured to it. Yet, the downside of following in the professional footsteps of Sean Connery, the definitive James Bond, seems to weigh heavily. 'In hindsight, there were a number of things I could have done,' he says. 'I could have changed my name. If I had been Jason Jones, there would not have been the immediate connection. But I wasn't initially aware I was following in his footsteps. I decided to act and went with the flow.
Jason Connery was the prettiest thing in Sherwood Forest when he played Robin Hood on TV in the mid 1980s; 21,000 letters poured in every week during several series of the show, from fans whose pulses quickened at the sight of his thin, delicate face and long, blond hair. At about that time, he was said to have punched a man who asked if he was gay. Sixteen years on, he exudes such a solid and unflappable presence that it seems unimaginable that he would ever have taken a swing at anyone. Now he has just turned 40, is muscular and fit looking, his face fuller, his dimples more deeply etched. His hair is gently receding, but it never harmed his father's image as an enduring sex symbol. 'He doesn't take that sex-god stuff seriously,' snorts Jason. 'Women fancy what they think he is, not what he really is.'
While Connery senior's sexuality as 007 was rooted in a teasing macho appeal, Connery junior is about to plunge into a production of unfettered eroticism. On February 3, he begins tour of The Blue Room, which originally starred Nicole Kidman, whose on-stage nudity earned her drooling plaudits, including, from one critic, the notion that she was 'pure theatrical Viagra'. We meet just before rehearsals begin, with former Coronation Street actress Tracy Shaw in the Kidman role. 'I think that in the play, the man is probably naked more than the woman is,' he observes. They each play five characters who are involved in a chain of sexual encounters. Does he think they will shock audiences in places as diverse as Eastbourne, Cork, Guildford and Milton Keynes? 'There will be warnings that the play contains nudity, strong language and upfront ideas. If you're going to have a play that revolves around this subject, it's difficult for people never to be naked.
'I know whenever I see anyone nude on stage, you have a minute of staring at their nether regions. The voyeuristic element remains but if the actor isn't self-conscious, you will attend to the drama. Rehearsals are harder than performances because they are out of context. You should probably start the nudity quite early on in the rehearsal process. For one thing, Acre's the whole timing element to taking off your clothes. You also have a physical and emotional memory of what you're doing as you say your lines. If I'm taking off my clothes as I'm talking to Tracy, we need to do that in rehearsals.' Has he ever appeared nude on stage before? 'Yes inadvertently,' he grins, looking like a more wholesome Darren Day. 'I was in the Three Musketeers at the Bristol Old Vie. My character rapes Milady de Winter and then she takes off my clothes. Once, I forgot to put on underwear and whispered to the actress, Sian Webber, "Don't take my trousers off". She smiled and stripped me. I thought I'd drape myself in a sheet but it was stapled to the bed. I think the front four rows passed out as I walked past them.'

If, even after that experience, Jason is fazed by the thought of baring himself to the British public, or playing a plurality of characters in a fast-moving sequence of scenes, he does not show it. He has a reason for looking forward to the concentration the role will require. The past two years have been painful for him. He separated from Mia Sara, the American actress he married in 1996 and by whom he has a five-year-old son, Dashiell, and his divorce has now been finalised. 'I never thought I'd get divorced,' he says bleakly. His father and mother, Australian actress Diane Cilento, divorced in 1973, when Jason, an only child, was ten years old, following fierce rows. 'Children work on an emotional level and and when people are having a hard time, children are very affected by it. It's really not good for them to be around.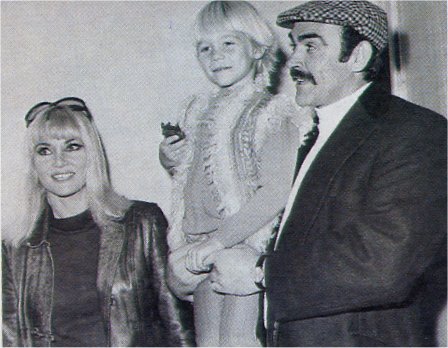 'When they were first divorced I was a little confused about what was going on. I think it's true that kids feel it's their fault. I went on thinking they'd get back together. It's important not to project my fears about how I felt on to Dashiell. Mia is also the child of divorced parents and you could say that it should be less likely that we get divorced. It is difficult to say what went wrong,' he says, shifting uncomfortably in his chair. 'No one else was involved. I can't speak for Mia, but there comes a time when you have to be apart. It takes two to make a marriage work and when that stops happening, you have to move on.' Jason is reluctant to say who instigated the split but there is no doubting the hurt in his large, soulful eyes. The couple met in 1994 when they co-starred in the film Bullet To Beijing, alongside Michael Caine. Mia had previously appeared in Ferris Bueller's Day Off with Matthew Broderick and Timecop with Jean-Claude Van Damme. But it wasn't until after Bullet To Beijing was completed that romance blossomed. 'On-set romances are not a good idea. They can get in the way of the work,' Jason says sagely.

Michael Caine took a keen interest in the couple's welfare and took an almost parental role when they decided to marry. 'He suggested the wedding chapel in Las Vegas where he and Shakira had got married. As my parents don't get on with each other, and nor do Mia's, we thought it better to have a simple ceremony without any guests We didn't even have to provide any witnesses. We weren't married by an Elvis look-alike, though, as was reported It wasn't in bad taste at all. It was very sweet. When we returned to London, Michael threw a party for us at Langan's Brasserie

'When I met him on the film, I was a little worried because he was such a great friend of my dad. I wondered how he would feel about me. But we had our own relationship. We were together all the time. We told stories and laughed.' Jason is an enthusiastic cook who loves creating dishes for his young son. His vastly different style in the kitchen to Mia's may reflect some of the disparities in their relationship. 'I used to watch my mum cooking. She makes it up as she goes along so that is what I do. Mia is very specific about measuring out quantities and following recipes exactly. She is precise and a perfectionist. 'Divorce affects you but you leam more from bad experiences. Society is very judgmental, but you just have to do the best you can. I don't have a girlfriend. Emotionally, you have to get yourself together again, but,' he rallies, with a weak smile, 'I'm coping fine. I'm not against remarrying. To say "Never again" is probably not a wise move.'

The couple was determined that their son should not suffer. Jason, who has a flat in Kentish Town, northwest London, and a four-bedroom Victorian stone cottage near Hawick, Scotland, intends to remain in his Los Angeles home to be near Dashiell. 'When we decided to split up, we saw a mediator rather than a lawyer, someone who is trained in child psychology and is there to represent the child. We wanted to share the childcare and I thought we would alternate weeks, but the mediator said Dashiell was too young for that and we should take him for three days each. We're very promotional of each other as parents. 'Dashiell is the most important person in my life and Mia is aware of that. What was nice was that when he was in my ex-wife's tummy, we used to talk to him. He was bom in a birthing centre in Pasadena. Mia got through the 13-hour labour without drugs and I cut the cord. I had a video camera focused to the side of her. When Dashiell's head appears, my voice rises like Minnie Mouse's. I thought the first thing I would do was to count the fingers and toes, but I was too mesmerised. He looked like an old Italian man with a pointy head.

'From the moment he was bom, he was my priority. Something happened inside me. Every day, there is a moment when I think, "I hope Dashiell is okay." He spent Christmas with me and my mother in Scotland and once The Blue Room opens, he will come over with his nanny. Then I can be with him all day. This tour lasts 20 weeks, but the longest we'll be apart is a month. When we are apart, I feel as though we're connected. I'll tell you how I know he feels that I am always with him. When I phone him, his mind is on 20 things at the same time, which is absolutely normal. He is not crying, "I'm missing you Daddy" because he feels I'm around.' The agony of his marital breakdown has not only drawn Jason closer to his parents, but given him an insight into what they may have gone through. 'My father was working a lot when I was young. Bond started the year before I was bom and really took off. I realise it can be hard to have a career and keep your family happy. As you experience things in life, so there is more of an understanding. Now I understand why Dad did things I didn't like, things which often can't be explained at the time

"My school reports [he was at Millfield, then Gordonstoun] said that if I wasn't interested in a subject, I wouldn't concentrate. My argument was that they should have made the lesson more interesting, but my father would go mad. He came from a very limited background financially, and was very aware of pulling himself up. He wanted me to have a good education. I was in awe of him and, as a small child, was probably scared of him. He hit me but I probably deserved it. That's a decision you make as a parent. I've never smacked Dashiell, but you need a lot of self-control.

'My parents were surrounded by stimulating people who told wonderful stories, but I don't remember thinking it was glamorous. I wasn't aware that Dad was famous until I went to boarding school at 11 and the Bond films came on television. Even then, I just thought of him as Dad, as the man he was, and didn't think about what he did.' Jason has spent time on film sets but didn't make the link between that experience and the razzmatazz of the business. 'Even now I find it difficult being on a film set if I have nothing to do. You feel you're in the way and there's always someone going, "Excuse me, mate". Once, Dad was doing a film in Arizona and I disappeared with a local girl I had been playing with. We went to get ice-creams and everyone thought we'd fallen in the lake. We turned up to find them dredging the lake and then they realised we were standing there watching it.

'Whether or not I was lonely as a child, I don't know, but I became self-sufficient early on.' His father set up a trust fund for Jason. 'I have dipped into it, but I couldn't live off the interest. I haven't touched it for years, but it's worth a lot less because of the market going down.'

Jason's mother was reported as having said that Sean hit her during their marriage. 'I learned not to take sides,' says Jason. His parents have never resolved their differences and Jason never saw them attend his school plays together. 'That's how it was. But, as a child, you want everything to be normal. He acquired a stepmother when Sean married Micheline Roquebrune in 1975. 'I was suspicious at first, but she is very family oriented and good at organising get-togethers.' He is still close to one of his stepbrothers, Stephan, who is about the same age, but sees less of Giovanna, his mother's daughter by her first marriage, as she lives in Australia. 'I met her father once, an Italian poet, who rode up on a white horse and announced: "I am Andre Voipe". My mother ran away from Australia with him to get away from her mother, but they had split by the time Giovanna was bom.'

The young Jason lived for a while with his mother on a commune in Wiltshire but she later moved back to Australia with her third husband. Sleuth playwright Anthony Shaffer, who died in 2001. 'She is coping. Like my father, she loves to see Dashiell. She looks great but no one knows how old my mum is. As a child, I was close to her. She is vivacious and dynamic and I remember thinking how beautiful she was. When my marriage broke up she just said: "I'm here if you want to talk." 'I always felt I didn't know my parents as well as I might have done. They are both very private people, largely because of being public figures. But I feel that I'm pretty matey with my dad now. He's 72 and he's mellowed. He lives in the Bahamas and we like to play golf together. I don't ask for his advice on acting very often, but I appreciate his input when he sees my work. He watches carefully and has important things to say. What I really admire is how he manages to keep working.'

Jason has a recurring role in the Channel 4 series, and Superman spin-off, Smallville. Recent films include Nicolas, Wishmaster 3: Beyond The Gates Of Hell, Shanghai Noon and Urban Ghost Story Yet the past two years have been mainly a period of 'lying low'. He says, 'It's been a tough time. When I have worked, I have felt my mind has been elsewhere what with sorting out the divorce.' Jason tries to sum up some of the ideas expressed in The Blue Room, adapted by David Hare from Arthur Schnitzler's original La Ronde which, when it opened in Germany in 1921, was deemed so indecent it was closed down by the police and the actors put on trial. 'We all have needs and wants. We all want to be loved or liked, but the way some people behave it looks as if they don't want to be loved .Al the characters in the play are trying to have sex but some are trying to gain love through sex.' It is hard to discern if he is talking from the heart or the head, or a fusion of experience and intellect. 'You can spend too much time concentrating on the outcome of something rather than enjoying it. I'm looking forward to doing the play because it's part of my learning curve. I'm ready for whatever life will throw at me.'