Wishmaster 3: Sword of Justice
aka Devilstone
aka Beyond the Gates of Hell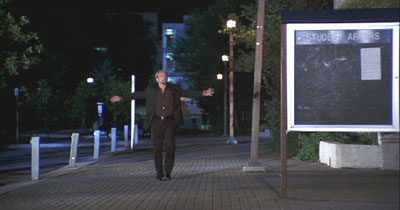 Jason Connery .... Professor Joel Barash
A.J. Cook .... Diana
Tobias Mehler .... Greg Janson
Louisette Geiss .... Katie York
Aaron Smolinski .... Billy Matthews
Emmanuelle Vaugier .... Elinor Smith
Daniella Evangelista .... Anne
John Novak .... Djinn
Release Date 23rd October 2001
Diana Collins is a teaching assistant at a prestigious college, where she studies comparative religion and mythology under Professor Barash. She inadvertently solves a mysterious puzzle left for one of Barash's colleagues, unknowingly unleashing the evil Djinn, a malicious genie, who is eager to grant his waker three wishes in order to free his race and destroy mankind. The Djinn assumes Barash's body and begins his search for the person who woke him. He stops short of nothing in his pursuit, systematically killing Diana's friends. In desperation, Diana invokes the archangel warrior St. Michael as one of her three wishes. St. Michael's spirit possesses the body of her boyfriend, Greg, and a bloody battle ensues between the archangel Michael and the Djinn.
Jason Connery as the human incarnation of the Djinn is fine, though Connery shows no signs of replacing his charismatic father anytime soon. Then again, good old poppa Connery has his share of embarrassments as well (anyone heard of a little movie called The Avengers?), so maybe things will start looking up for the young Connery.
Jason Connery, looking like a cross between his dad and Will Patton, lacks the virile charisma of the former and the skill of the latter. He delivers his lines with a dandyish inconsequence that defuses any kind of menace while also failing to provide any hint of campy relish. Divoff's absence is fatal to the film; Connery as the Djinn is Freddy Krueger as played by David Niven. - ooops!
A commentary track featuring director Chris Angel and actors Novak, Connery, and Louisette Guis (the bimbo best friend sex-kitten) is full of goodwill and mirth. The participants seem to realize that Wishmaster 3 is a barrel-scraping embarrassment, although Connery sits very quietly throughout, offering maybe thirty words throughout. Best is when the four take turns slamming the film and its continuity errors
DVD Review 3
What's really good: *Jason Connery is no Andrew Divoff (the djinn in the first two Wishmaster movies), but his portrayal of the evil Wishmaster is respectable. He has the same kind of charm that Divoff brought to the role, which makes it easier for the audience to believe some of his outlandish acts.
Finally, a return to good old-fashioned horror. Rather than following the latest self-referential comedic trend, Wishmaster 3 gets back to the gory, schlock roots of the genre. And while it's hardly a masterpiece, horror fans might at least find the film moderately entertaining.
Canadian actress A.J. Cook (The Virgin Suicides) stars as Diana, a promising Illinois college student who is more than likely on her way to a prestigious graduate school. While helping with some of her professor's (Jason Connery) research, Diana comes across a mysterious relic in the shape of a pentagram. She soon discovers a secret compartment holding a large gem. Unbeknownst to Diana, she released a dangerous demon called the Djinn (John Novak).
The Djinn goes on a murderous rampage, killing scores on the university campus. With the power to grant wishes, he's like a magic genie escaping from his bottle. Except that once Diana makes her third wish, the gates of Hell are swung open wide and all the demons of the underworld are free.
With this clearly-defined battle of good versus evil, director Chris Angel holds nothing back, delivering a horror film in the vein of Clive Barker and Wes Craven. Implausible and torturous deaths are plentiful. Angel is more creative than simply using knives and electrocution to kill of his characters. Instead there are bizarre impalements and repulsive regurgitations. Disgusting scenes such as these are in keeping with the genre basics that have been made a joke of in recent years following the success of Scream and its many, many imitators.
Although I have not seen either of the previous two Wishmaster films, I was never lost or confused in trying to follow this third instalment. The movie does a good job of not alienating new viewers by providing some of the Djinn's origins and back-story, but not bogging the script down with it.
Still, even if it is a decent genre piece, Wishmaster 3 is by no means an excellent film. As accessible as the script is, it relies on clichés, weak characters and absurdities. Diana and her boyfriend Billy (Aaron Smolinski) are a simple – and not terribly interesting – couple with good looks, stylish clothing, and little else to make them interesting. They're really indistinguishable from any other pretty face found on campus. As a result, there are several moments in the movie where you might find yourself letting out a bit of a chuckle at inappropriate times.
Wishmaster 3 will please its core audience of horror fans hungry for the genre's familiar plots of evil monsters and constant gore. Everyone else will most likely be left shaking their heads, covering their eyes, or laughing their heads off at its silliness.

(October 2000) Paquin Packages Productions Winnipeg-based GFT/Paquin Enterainment Inc. is producing two features back to back, beginning with Wishmaster 3: Sword of Justice, which started shooting August 9. It was scheduled to be followed by The Prophecy Fulfilled. Kirsten Andrews of GFT/Paquin said Sword was the third in a series of Wishmaster films and starred Jason Connery, A.J Cook and Tobias Mehler. The film will be directed by Cyrus Angel, while Curtis Petersen will be the DOP on both Sword and Prophecy. Andrews said both films are being produced by Gary Howsam and Gilles Paquin, with Craig Nicholls the U.K producer of Sword.

Blue Rider Pictures negotiated an agreement with Artisan Entertainment to develop and executive produce the next two installments of the highly successful Wishmaster franchise. Blue Rider subsequently developed two screenplays that were filmed concurrently on location in Winnipeg, Canada in August through September, 2000. Wishmaster 3: Sword of Justice was directed by Chris Angel (A Twist of Faith, Fear: The Resurrection, and Mr. October - for which he won an Academy Award while attending USC Film School), and stars Jason Connery (Shanghai Noon, Bullet to Beijing, Robin of Sherwood), A.J. Cook (The Virgin Suicides, Higher Ground), and Tobias Mehler (Disturbing Behavior, The Inspectors).

(Aug 3rd 2000) Plot known so far: When a college student inadvertently releases the Djinn demon from the Stone of the Secret Fire she wishes for the warrior Angel Michael to be her protector.
HIGH LO FI: Are still locked in a studio in deepest Montreal writing new songs! they have been getting a lot of great feedback in Canada, which includes a lot of record company interest! "Adrenal Eyes" is also going to appear on the soundtrack to the film "Wishmaster 3" and will feature in US TV show "In A Heartbeat" too!!
Wishmaster 3: Sword of Justice: A second sequel appears to be in the works for this B-grade horror franchise and 'Nightwing' has some details on the filming schedule: "Wishmaster Productions Inc. will be filming in Winnipeg, Manitoba, Canada at various locations in the city. Specifically, at Birds Hill Park, The University of Manitoba, and the Manitoba Legislature
Buildings. Filming is being done from August 8th to August 29th. Looks like they'll be filming a car chase and explosion sequence, and using 6 buildings around campus. The director is Chris Angel. The story is about "a mythical Djinn demon who's murderous rampage at a fictitious American university, results in a somewhat less than perfect learning environment for students and staff alike." Dark Horizons 3/8/00

Film review