Shoebox Zoo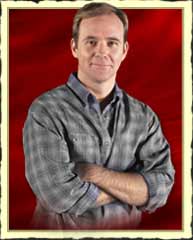 CBBC1 every Tuesday at 4.35pm
CBBC (digital) every night at 6.30pm
BBC1 every Sunday at 4.45pm
Name: Ross McBride
Date of Birth: 11 April 1963
Height: 6 ft
Weight: 13 stone 1lb
Powers: Making good pizza
Fears: For the health and well-being of his daughter
Strengths: A good listener, a firm friend and a shoulder to cry on
Weaknesses: Not being able to show his emotions sometimes
Most likely to say: "Hurry up, Marnie! You'll be late for school!"
Hates: Mysteries, bullies, and locked doors in his house
Loves: Old books, libraries and Marnie
Greatest desire: For his daughter to be happy, to get over the loss of his wife and to start a new life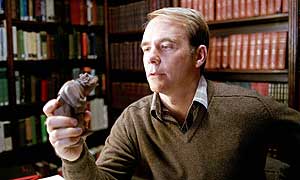 There's a first time for everything and for Jason Connery, star of the popular Eighties television series Robin of Sherwood, and the stage production of The Blue Room in 2002, it's playing a dad in Shoebox Zoo. The six foot tall son of James Bond legend Sean Connery laughs when he says: "Now I've reached 41, I'm finally playing dads – but it's cool. I don't mind." As Marnie's father, Jason brings more than 20 years acting experience in more than 20 films to the role of the ex-pat academic and newly-widowed Ross McBride.

One thing he did flinch at though was his character's bad dress sense. "My street cred is totally out of the window," exclaims the designer label-loving actor, who in real life is dad to seven-year-old son Dashiell. "Have you seen how I dress in this? Although, you never know, there might be a cult following for people dressed in outdoor tops and checked shirts."

Jason, 41, was delighted to be back on home territory for the filming of the first series of Shoebox Zoo. Most of the action was shot in a warehouse in Leith, not far from where his dad grew up. Although Jason was born in London, he spent a great deal of time in Scotland.

He attended Prince Charles' old school, Gordonstoun, in the north of Scotland, for four years and, a few years ago, he bought a house in Melrose, in the Scottish Borders, so the Scottish accent he shows off in Shoebox Zoo was effortless. "I always felt an affinity with Scotland but I thought I would end up further north than the Borders. But I really love it there, there's something about that beautiful undulating countryside which is unique in the world."

Jason currently divides his time between his home in the Borders and Los Angeles where son Dashiell, named after a character in the Maltese Falcon, lives with his mother, Jason's ex-wife, actress Mia Sara. The couple share custody of their son and Jason is clearly a devoted father. "I'm sure he'll love the story of Shoebox Zoo which is one of the reasons I wanted to do it. It has such a magical quality."
Jason is also full of praise for his young co-star, Vivien Endicott-Douglas, whom he describes as "amazing". "I have acted with a lot of kids before in Robin of Sherwood, but she is incredible, very natural." He continues: "She has been filming every day and a lot of it has been the digital animation stuff, which in effect is acting with nothing; just the voices of Rik Mayall, Alan Cumming, Simon Callow and Siobhan Redmond. You have good voices to work with but it is bizarre looking at nothing."
Jason describes his character Ross as being a normal guy who is thrown into a difficult situation following the death of his young wife. "Ross is originally from Edinburgh but went to live in Denver for 13 years. He is an academic, a special collections curator, and one of the reasons he is drawn to the second hand shop in Edinburgh, where Marnie finds the Shoebox Zoo, is his need to find a first edition."
Although Jason admits that the animation side of Shoebox Zoo is fascinating, his character is not party to it and stays very much in the real world.
Jason explains: "When Marnie starts to act strangely, Ross thinks his daughter is going through a nervous breakdown because her mother has just died.
"But hopefully throughout Shoebox Zoo you'll witness the growth of the relationship between father and daughter.
"I am not involved in this whole other magical world, the animals keep running past me, and I don't have a clue."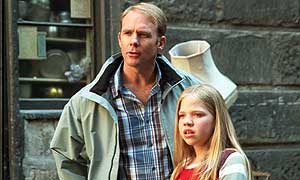 Credits
Executive Producer Claire Mundell
Jason Connery plays Ross McBride (Dad)
Peter Mullan plays The Great Wizard Michael Scot
Vivien Endicott-Douglas is Marnie McBride
David McKay is McTaggart
Anthony Donaldson is Professor Toledo
Siobhan Redmond is Ailsa the Adder
Rik Mayall is Edwin the Eagle
Alan Cumming is Bruno the Bear
Simon Callow is Wolfgang the Wolf
Bill Paterson is the voice of The Storyteller

Official BBC Site & Trailer

BBC Press release 05/08/03
Stars of Shoebox Zoo unveiled

Peter Mullan, Jason Connery, Alan Cumming and Simon Callow are just a few of the big names signed up to star in an ambitious new family series that follows the mystical adventures of a young American girl in Scotland as she gets to grips with the mysteries of her Shoebox Zoo. Young Canadian actress Vivien Endicott-Douglas is joined by a host of stars from big and small screen in Shoebox Zoo, which sees her uprooted from her home in Canada after the death of her mother and relocated to Edinburgh with her father, played by Jason Connery (The Blue Room).

It is on her 11th birthday that Vivien's character Marnie is given a present from the mythical Scottish alchemist Michael Scott, played by Peter Mullan (The Magdalene Sisters, Orphans, My Name is Joe), which will inevitably change her life forever. Davie McKay (My Name is Joe, Braveheart) plays the character McTaggart, servant to the Great Michael Scot and narrator for the 26-part series which is filmed on both sides of the Atlantic. The essential elements which make up the shoebox are the wonderful carved Celtic animals which come to life and help Marnie on her epic quest.

The stars providing the voiceovers and also giving the animals their unique character and personalities include:Rik Mayall (The Young Ones, The New Statesman) as the voice of Edwin the Eagle; Simon Callow (Notting Hill, Shakespeare in Love) as the voice of Wolfgang; Siobhan Redmond (Holby City, Beautiful People) as the voice of Ailsa the Adder; and Alan Cumming (Xmen 2, GoldenEye) as Bruno the Bear.

Shoebox Zoo fuses classic drama with state of the art CGI animation by taking viewers on a magical adventure in search of the alchemist's Book of Forbidden Knowledge, lost a millennium ago in the borders of Scotland. The series - developed over the last 16 months by CBBC Scotland, Blueprint Entertainment and Scottish writer Brian Ward - is a joint production between CBBC Scotland, Blueprint Entertainment, CBC, BBC Canada and UK Treaty. It starts filming in Edinburgh this week.

The project will then move to Alberta in Canada to complete the 26-part series in partnership with local production company Alberta Film Works. The series will be shown on CBBC in the UK; CBC and BBC Kids in Canada; and will be distributed outside of Canada by BBC Worldwide.

Executive Producer Claire Mundell said: "We''ve got a brilliant cast together for a fantastic fantasy series that will showcase modern Edinburgh and the Borders of Scotland to a national and international audience. "We are sure children at home and abroad will come to love the adventures of Marnie in Shoebox Zoo."

It will air in the UK and Canada in autumn 2004 and subsequent international sales may follow. A full length feature version of Shoebox Zoo is also in development. The film will be shown in the UK and Canada in autumn 2004.